NACEDA Network News
August 13, 2019
Arizona California Georgia Illinois Massachusetts Minnesota New Jersey Ohio
| | |
| --- | --- |
| National Alliance of Community Economic Development Associations | August 13, 2019 | |
Policy Update
Special Edition — SUMMER 2019 STATE & LOCAL LEGISLATIVE UPDATE
As the legislative season wrapped up in some states, NACEDA members report significant victories for affordable homes and stronger communities.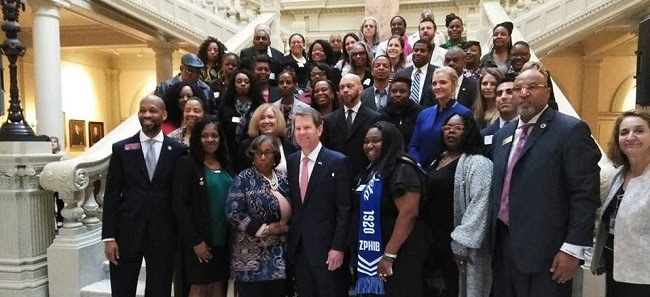 Governor Brian Kemp meets with Georgia ACT 2019 Housing Day participants
States Wins
Arizona
$15 Million Appropriated to the Arizona Housing Trust Fund
The Arizona Housing Coalition led the advocacy campaign for one of the largest investments in housing and homelessness prevention that the state has seen in nearly a decade. Find out more from the Arizona Housing Coalition and NLIHC.
California
$2.7 Billion Budget Deal for
Rental Housing Affordability
Housing California describes the largest general fund allocation for affordable housing and homelessness in California's recent history and how it was achieved. The budget includes these top line commitments:
$500 million for the state Low Income Housing Tax Credit program.
$500 million for the Infill Infrastructure Grant program
$650 million for the Homeless Housing, Assistance, and Prevention Program
Georgia
New Law Prohibits Retaliatory Evictions
Georgia landlords are now prohibited from evicting tenants in retaliation for complaining to code enforcement of unsafe and unhealthy rental housing conditions. Georgia ACT provides the details. They were one of the lead agencies in the Georgia Healthy Housing Coalition campaign that successfully advocated for the bill's passage.
Illinois
$200 Million in Capital Budget Funding Secured for Housing
Passage of the first major capital budget since 2009 included 15 significant wins for housing and community development. Housing Action Illinois reports on all of the victories. Here are just a few:
$6 million in new funding for lead poisoning prevention, bringing total funding to $16 million.
$4 million funding increase for the Homelessness Prevention Program, bringing the total funding to $9 million.
State fee extended to support abandoned property rehabilitation and foreclosure prevention counseling, generating more than $6 million annually.
Proposed sweep of approximately $21.5 million from Affordable Housing Trust Fund prevented.
Massachusetts
$40 Million in New Funding for Community Development Priorities
The Massachusetts Association of Community Development Corporations (MACDC) describes these 2020 budget victories:
Estimated $36 million in additional funding for the Community Preservation Act Trust Fund through an increased recording fee.
$750,000 to enable MassDevelopment and MassHousing—in coordination with MACDC and MassInc— to create a capacity-building program to implement neighborhood level revitalization efforts across the state.
Small Business Technical Assistance program increased from $2 million to $3 million for FY 2020.

Funding for nonprofit housing counseling services increased by 40 percent to $2.805 million.
Minnesota
10% Base Budget Increase for Minnesota Housing + $60 Million in Bonds
The appropriations will provide rental assistance for families, preserve manufactured home parks, and support multifamily and single family affordable housing development. Bipartisan Housing Infrastructure Bond legislation will put an additional $60 million towards affordable housing this year. The Metropolitan Consortium of Community Developers provides a recap of the legislative session and specific programs funded, thanks to their advocacy through the Homes for All coalition.
New Jersey
$59 Million Affordable Housing Trust Fund + New Tools for Revitalization
The Housing & Community Development Network of New Jersey reports three major victories in the 2019 legislative session:
At least $59 million in funding for the Affordable Housing Trust Fund.

Expansion of the Neighborhood Revitalization Tax Credit Program Cap to $15 million. That is a 50% increase over the current funding.

Land Banking legislation will give municipalities new tools to address vacant and abandoned properties.
Ohio
Housing Trust Fund Gets 1st Increase In 16 Years
The Ohio legislature increased the county recorder fees that support the Housing Trust Fund to add approximately $2.5 million to $3.5 million per year. The trust fund is the primary source of funding for homeless and housing programs. The spending cap for the trust fund was also eliminated in the state's budget bill. Since its inception in 2003, trust fund revenue above $50 million cap went to the state's general fund and not to affordable housing and community development. The Ohio CDC Association partnered with COOHIO on this three-year advocacy effort. Learn more from the Ohio CDC Association.
Pennsylvania
Housing Trust Fund Cap Raised
The cap on Realty Transfer Tax contributions to the state's PHARE housing trust fund was raised from $25 million to $40 million. PHARE also receives funding from Marcellus Shale Drilling Impact Fees and The National Housing Trust Fund, although the lion's share is from the Realty Transfer Tax. Housing Alliance of Pennsylvania provides details about this flexible source of resources for affordable housing, and the innovative ways that this funding helps communities.
South Carolina
$1 Million in Community Development Tax Credits Authorized
An additional $1 million in Community Development Tax Credits were authorized for 2019 usage. These tax credits attract private capital into certified Community Development Corporations and Community Development Financial Institutions. The South Carolina Association of Community Economic Development provides information about the legislation and how Community Development Tax Credits work in South Carolina.

Detroit Housing Trust Fund Town Hall Meeting
City Wins
Detroit
$2 Million Housing Trust Fund Established
The Detroit City Council passed an Inclusionary Housing Ordinance that an includes Affordable Housing Development and Preservation Fund. The Council appropriated $2 million into the fund, which will receive 20% of the net receipts of the City's commercial property sales and fees. Community Development Advocates of Detroit is a member of the newly-created Affordable Housing Taskforce that will advise the City on funding decisions and policy recommendations. Get details from NLIHC and view the Community Development Advocates of Detroit policy agenda.

Memphis
1st Affordable Housing Trust Fund + Community Catalyst Fund Created
The Affordable Housing Trust Fund is the City's first fund dedicated to ensuring all Memphians have affordable, safe, clean housing. The Community Catalyst Fund is the City's first fund dedicated solely to infrastructure improvements in disinvested neighborhoods. BLDG Memphis was instrumental in bringing stakeholders together to make these funds possible. Listen to a podcast with BLDG Memphis Executive Director John Paul Shaffer and the Memphis Director of Housing & Community Development Paul Young.
St. Louis
$6.6 million Secured for Affordable Housing Trust Fund
The trust fund includes an additional $1 million in funds for building demolition and housing assistance programs in 2020. This is the highest level of funding in a decade and a 50% increase since Community Builders Network of Metro St. Louis convened the Affordable Housing Trust Fund Coalition in 2017, This diverse coalition of advocates includes community development corporations, health care organizations, churches, St. Louis Public Schools, developers, and others.
San Francisco
Nonprofits Get First Right of Purchase + $600M Bond Measure on November Ballot
Landlords who want to sell multifamily residential buildings will first need to notify qualified nonprofit groups of their intent to sell, thanks to the Community Opportunity to Purchase Act. The Council of Community Housing Organizations describes the legislation. They were also instrumental in getting two on the November ballot: an Affordable Housing Bond Measure to double the city's bond measure from $300 million to $600 million and the Affordable Homes for Educators NOW! Act.
Seattle
Fort Lawton Redevelopment Plan Approved
The City Council unanimously passed a plan to redevelop this former federal army reserve site to create 237 affordable homes, including supportive housing for formerly-homeless seniors, apartments for low-income families, and affordable homeownership opportunities. The Housing Development Consortium provides information about this success and other legislative priorities.
Job Postings
Executive Director
California Community Economic Development Association | Los Angeles, CA
Advocacy & Engagement Manager and Executive Assistant
Non-Profit Housing Association of Northern California | San Francisco, CA
August 16 deadline
Marketing Manager and Administrative and Communications Assistant
Shelterforce | Montclair, NJ
Executive Director
Essex Community Land Trust | Montclair, NJ
To post a job opportunity, contact Suzanne Gunther at sgunther@naceda.org. A $25 donation is suggested.
Funding Opportunities
Go to our website for current grant opportunities. They're updated throughout the month.
« Back to Blog
Ohio Conference of Community Development Public Service Scholarship



The scholarship program was established by OCCD to honor two men who dedicated their careers to Public Service.

Like to make a donation?
Click Here