Disposing of Vacant Land and Abandoned Houses
January 30, 2013
The fallout of the housing crises is on your door step. After every housing sale there are two entities that have a long term interest in the property, the buyer and you, (the local government and neighbors.) Everyone else at the closing walks away with risk free cash and no responsibility for the results of the sale. Leading up to the crisis people bought houses with physical flaws at prices above real value that they could never own outright because they did not have the ability to handle all the factors needed for success. All across the state local governments are left with vacant scattered sites from demolition, vacant and abandoned houses that either the government owns or the property is controlled by real-estate agencies that do not maintain it. Local governments lost tax revenue but must cover the increased costs of fires, drug houses, crime and demolition. Local governments need guidance to:
1. Manage and dispose of the vacant scattered sites or find new uses for the land that will generate taxes or have minimum maintenance costs.
2. Rehab and sell vacant structures that are marketable. How many can be sold in a given time frame?
3. Develop and get political support for community wide plans based on each neighborhood's marketability and focus other public investments with housing preservation efforts to sell some neighborhood as a good place to live.
4. Preserve with public financing owner occupied homes and standard rental units in marketable areas with home repairs and minor rehab.
5. Get public and political support for declaring some parts of the community too far gone for public investment.
6. Develop fair Walking Away Policies for owner occupied homes otherwise eligible but rejected because the condition of the area does not justify public investment, The Last Man Standing Syndrome, or the owners will not maintain the property.
7. Continue to demolish houses that pose a threat to the rest of the community.
8. Encourage continued owner occupancy of 2 bedroom one bath houses on small lots that probably cannot be sold in today's market.
The City of Dayton illustrates the extent of the problem; based on the most recent US census, it has 15,000 vacant units, a 21.1% vacancy rate, the highest in Ohio.
In 2013 average median income fell to $57,800 from $62,400 in 2011, a 10.7% decrease. The first map shows census tracts within the City of Dayton. Vacancy rates from the US Postal Service were compared for 2010 and 2012. The green shaded areas represent an improvement in the vacancy rate with a decrease of greater than 2%, in the orange shaded areas the vacancy rate increased during the time period more than 2%. The various dots represent NSP eligible activities in the areas, in the given example a strong mix of demolition (blue dots) and new construction (red dots) was synonymous with the greatest declines in vacancy rate.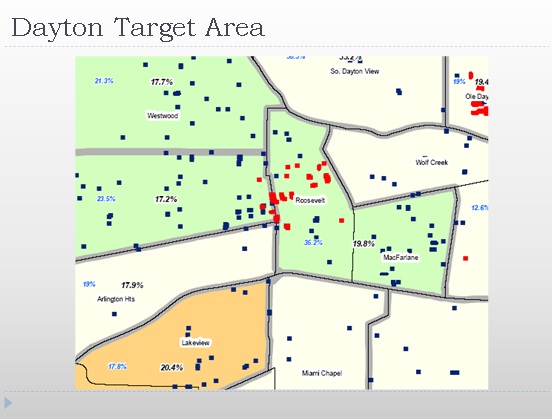 The Last Man Standing map illustrates that the concentration of vacant parcels isolates single owner occupied homes in a sea of abandonment. Fountain Ave is a good example. The brown shaded lots represent parcels with abandoned structures and the green shaded lots are vacant land.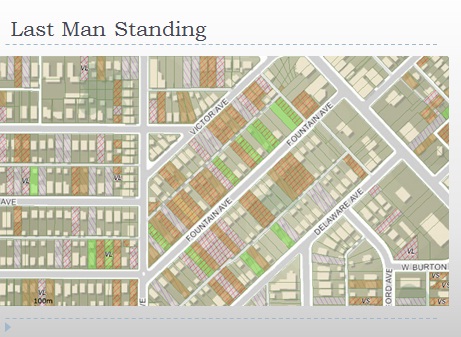 In 2010 the Federal Reserve Banks of Cleveland and Boston published, "REO and Vacant Properties, Strategies for Neighborhood Stabilization" which provided many excellent suggestions to address these problems. However, it did not address the market issue or provide guidance on how local governments could use their resources to get the maximum number of the usable structures and land back to housing people and paying taxes. In January 2013 the Cleveland Fed, in its "Issues & Insights" reported that, "Nearly 70 percent (of survey responses) indicated vacancies have increased in their communities since the start of 2012" and that "Businesses do not want to locate in blighted neighborhoods". I have been talking with the Cleveland Fed about using the expertise to develop market absorption guidance (what vacant houses can be sold, from what neighborhoods and in what time frames). My argument is that communities must decide and budget the funds to rehab units they hope to sell when the rehab is completed. My goal is for the Federal Reserve to develop tools to help allocate resources that will result in the greatest reduction of blighted buildings and vacant land in the shortest period of time.
In the Cleveland Fed's most recent Forefront Magazine, Amir Sufi, professor at the Booth School of Business, University of Chicago, said that for 35 years the homeownership rate was 63 % then jumped to near 70 % in 2006. He went on, "…that tends to tell me…the long run equilibrium is…" 63 or 64 percent. In trying to understand the complexity of disposition I reviewed a market study for the city of Columbus to help it dispose of what it has. Also I have been searching for other potential influences on marketability. At the 2012 Ohio Housing Conference I learned there appears to be demographic changes and occupancy trends toward renting away from buying which may make rehab and deposition of single family homes more difficult.
Beth Riley, Senior Vice President, George K. Baum and Company (for Market Analysis) pointed out at the Ohio Housing Conference a downward trend in home ownership rates since 1982 for all households except those over 65. Data from the Danter Company supported her and revealed for buyers under 35 (first time home buyers) the rate fell from 41.2% in 2001 to 39.1% in 2010. Both sets of data showed peaks in 2003 or 2004. Gallup reported that its surveys show a reduction in homeownership from 67% in 2001 to 62% in 2012. The three sets of data indicate a long term decline in homeownership that began well before the housing crisis of 2007.
Edward (Ned) Hill Dean of the Cleveland States Levin College of Urban Affairs in his presentation at the Ohio Housing Conference pointed out in a chart that the current Labor Force Participation Rate of 63% is lower now than it has been for the last 25 years. This is roughly the same percentage as the homeownership rate. An increase in homeownership needs more jobs; the houses you want to sell need a lot of first time buyers with middle and lower income jobs. More jobs may increase homeownership, but more rental units may meet the need for housing.
On January 8, 2013 in an article by Dawn Wotapka, the Wall Street Journal reported an increase in rents and a reduction in rental vacancies. Jeff Donnelly, real estate analyst for Wells Fargo, was quoted that higher rents are not deterring "people from rented" and " we are heading to being a renter nation…younger people today put much higher value on flexibility…it does not seem like that is going to change."
In the WSJ on January 9th., Josh Mitchell reported that "3.9 % of the population or 11.8 million people moved to a different county in 2011….the highest level since before the recession." Among the moving are those 25 to 29 for new jobs. On January 14th Eliot Brown reported the increase in demand which continues to grow has resulted in a wide spread development of rental housing (in Ohio it is primarily in downtowns). "Demand is likely to outpace supply for some time." "…the strength of the rental market indicates some limitations of the recovery among the sale housing market….Economist expect the homeownership rate to stay around the current 65.5% level for a least the next few years, if not the long term…well below the 69.2% peak."
Long term homeownership involves many inter- related factors - an income to pay the mortgage, insurance, taxes, utilities, etc. Maintenance such as keeping it clean and healthy, cutting the grasses, shoveling the snow, and planting the flowers. All these factors must be constantly in play to keep homes solvent. The vast majority of homes must be solvent for local governments to have the funds to provide the needed public services, police, fire, water, sewer schools, parks, save streets etc. and keep the neighbors happy. The financial aspects of ownership are weakened by new cars, giant TVs, expensive gadgets, education expenses, major auto repairs, unexpected health expenses, promotions that do not come as anticipated, jobs lost or hours reduced. The owners can have internal squabbles when both parties do not do their anticipated share; bills are not paid, maintenance and upkeep not done resulting in unhappy occupants and neighbors. Their nest egg starts to wobble, fall over, divorce, foreclosure and abandonment follow
Local governments are faced with a supply of vacant single family houses which are the least desirable and scattered vacant sites following demolition of blighted structures. Although there is little sign of competition from new suburban subdivision housing, there is a raising demand for downtown rental units for young professional seeking flexibility and retirees seeking less responsibility. There is a delay in child bearing plus a decline in birth rates to the point that Ohio may not be able to maintain its population; all this indicates an increase in potential renters and a decrease in the potential homebuyers.
These recent reports are national and may not reflect conditions of the market in many Ohio towns. The trends may be just short term glitches that will not affect your local planning to dispose of the vacant abandoned housing and scattered land. However, they might be universal, long term trends that will affect the housing markets in Lima, Canton, Marion and your town for the next five to ten years. Perhaps you should shift your planning from rehab/ resale to demolition and packaging large enough tracts of vacant land for alternative redevelopments to take advantage of the growing rental market or build urban fish farms.
While you are devising your plan, here are a few ideas to for you to implement it.
Frank Ford, Senior VP for research and development at Cleveland based Neighborhood Progress Inc., in his piece in the Federal Reserve Report on REO properties recommended local governments threaten demolition with leans against the lenders controlling ownership but not maintaining structures. I suggest governments require a code enforcement examination before all property sales. This will reduce the incentive for quick flips after butter up rehabs and purchases by drug dealers of throw away houses. We must reduce the economic incentive for outside profiteers to take advantage of the dilemma and make things worse in the long run.
Both the market study for Columbus and Daniel Fleishman, New Your City Housing Consultant, in his piece for the Federal Reserve REO study recommended that residential areas be divided into target areas based on the health of the market for the housing stock in that area. Public assistance should be scaled to that health. Hot market areas should get the mandatory code inspection and promotions to maintain the area's appeal, but little else.
Areas where there is some private market should be the focus for preservation of the existing housing stock with rehab, resale, buyer assistance and some rent to own programs. These areas of preservation should be targeted for other public improvements such as streets, schools, parks and public relations programs to promote the areas as good places to live. A house (whether owned or rented) must be maintained. It is cheaper if done by a resident owner. Scattered site management of rented older houses is not usually successful.
Areas where there is little or no market should be targets for demolition, land banking and assembled while you search for new housing / commercial use. Communities may not want to take ownership through tax liens until an end user is found. Discontinuing preservation of an area will be most difficult in areas of serious decline but strong political influence. Alternative types of development should be sought for these areas if the area with the worst housing is near your downtown or near a development such as a hospital which could be a focus for development of rental housing compatible with the magnet.
There are signs that Ohio's economy is improving which will open opportunities. What kind and where is the question hidden by the fog of the future. Lots of low and moderate income people want to own homes but may not have all the ware-with-all needed.
Maybe the economy will generate enough good jobs to build a demand for your rehabbed houses. The problem is when will that happen and how many units should you put on the market next year?
Blog Archive
Related Topics
« Back to Blog
Ohio Conference of Community Development Public Service Scholarship



The scholarship program was established by OCCD to honor two men who dedicated their careers to Public Service.

Like to make a donation?
Click Here