From Our Training Coordinator
December 30, 2013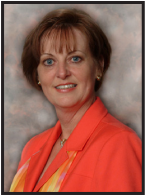 Debra Mayes, OCCD Training Coordinator
Another new year already??? Really?? It was an extremely busy time here in the OCCD World the last quarter. The OCCD Fall Quarterly followed the next week by the Ohio Housing Conference and two weeks later the OCD Housing Conference. I saw some of you folks more in 4 weeks than my family!!!
The last few years the day prior to the OCCD Winter Quarterly has meant it was time once again for CHIP Application Training. 2014 being The Year of Change, the CHIP Application Training will roll out later in the year and a training session titled Online Grant Management will be offered. If you have not received information on this training, please contact your OCD Rep.
Kathy Werkmeister, Vice-President (who sets the agenda) has some GREAT sessions lined up for both the winter and spring OCCD Quarterly meetings. You won't hear me complaining when the OCCD Spring Quarterly is upon us!!
If you haven't heard – OCCD will be celebrating its 50th Anniversary in 2015. DO NOT, I repeat DO NOT schedule anything for the OCCD Summer Annual –July 29-30, 2015. A committee has been created to begin planning this 'not to be missed' celebration. At the OCCD Fall Quarterly, Phil Snider presented me with a memento from years gone by – an OCCD license plate bracket!! Anyone else have one or am I special??
Phil also sent me some additional pics of PRICELESS OCCD mementos. So I am challenging all of you OCCD members to photograph and send me pics of anything OCCD that you have locked away. If you can identify when and where they were received that would be wonderful! I have some ideas that I am anxious to share with the OCCD 50th Anniversary committee. If you do as well, please let me know and I will pass along – trainingcoordinator@occd.org.
It appears some folks didn't get the memo. No one is allowed to retire unless it is cleared through Debra. Joyce Hill and Ele Garcia of OCD are the most recent escapees. Will miss them both!!

Reminder
PowerPoint presentations from the OCCD Quarterly meetings are posted to the OCCD website under Learning Resources-Post Training Materials when permission is given by the speakers. Occasionally, due to the size of the presentation because of pictures, this is not possible. The members' only password is required to access. If you do not have this password, please contact Patricia Richards at office@occd.org.

Locations for 2014-
The OCCD 2014 Winter Quarterly Meeting will be held January 29-30, 2014 at Embassy Suites, Dublin.
The OCCD 2014 Spring Quarterly Meeting will be held April 23-24, 2014 at Crowne Plaza North, Columbus.
The OCCD 2014 Summer Quarterly Meeting will be held July 30-31, 2014 at Crowne Plaza North, Columbus.
The OCCD 2014 Fall Quarterly Meeting will held October 29-30, 2014 at the Holiday Inn, Downtown.
"Like" us on Facebook!
« Back to Blog
Ohio Conference of Community Development Public Service Scholarship



The scholarship program was established by OCCD to honor two men who dedicated their careers to Public Service.

Like to make a donation?
Click Here
The Davis Bacon Training is postponed at this time.  We are working with the trainer to offer an online / interactive training in the near future.  We provide an update as soon as information is available.

Apr 21, 2020

Jul 29, 2020

Oct 28, 2020