WE DID IT!
August 3, 2015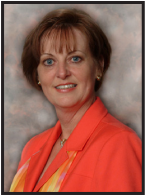 The OCCD 50th Anniversary Gala and Summer Annual Meeting was a TREMENDOUS success thanks to the leadership of committee chair Rollin Seward, OCCD President Ken Lengieza, President-elect Kathy Werkmeister and the 30+ committee members! I could say it was one of the easiest functions ever planned and there were absolutely no fires to put out along the way. I can hear the "oh, right"s!! Pat and I spent many a phone call commiserating and asking one another "How do we handle this one?" But to see everyone come together - past presidents we haven't seen in years - older members and those younger who will carry OCCD into the next 50 years, made it so worth while. The Ohio Statehouse made for a beautiful venue. Thanks to committee members who had the foresight to recommend, OCCD board members who approved it and Rhonda Snyder, OCCH for her coordination.
As I looked up at the rain falling against the sky lights, I couldn't help but believe it was the happy tears of all those OCCD faithfuls who have left us. Happy tears, proud tears, excited tears for the future of OCCD!
Below are some of the comments shared by those in attendance. Please add yours.
We will be adding pictures to the website and Facebook page - both from Steve our professional photographer and those from folks such as me - not a professional. If you have any to share - send them to me at tc-occd@occd.org.
There will also be a special edition OCCD 50th Anniversary Newsletter coming out "soon". Or perhaps later than soon. :)
Carol Nawrocki – What a very special event! It was great seeing and visiting with so many people who I have developed friendships with and have so much respect for. Thanks to everyone involved for making it such a success!
Nancy Cook- A great big thank you to all! This is a wonderful organization!
Oren Henry- The success of the conference says a lot about the character and
dedication of our membership over the past 50 years. I am certainly glad to still be a small part of it!
Fritz & Judy Leighty- Yes! You all did, in fact, do a tremendous job with this undertaking. All involved are to be congratulated and commended. As someone who was there at the beginning I must admit that I do have some nostalgia for the cigars, smoke filled rooms and general male locker room atmosphere, but that is the price of progress I guess.
On a more serious note Judy and I want to thank OCCD, and all concerned with the proceedings, for being honored with the recognition and award. We watched the birth of this organization, participated in its growth and development, and have seen it become a singular organization for community development on the national level. It has been an enjoyable and humbling experience. Thanks again.
Dale Hartle- I agree with the words of all the rest who have responded. It was an outstanding celebration, and Rollin and his team made it all come together. The memories will last at least 50 more years.
Rollin Seward- I want to personally thank everyone on the committee for all your hard work on making the OCCD 50th Anniversary a success!
Conference: Over 150 participants
Gala: Over 200 registered
Speakers: Outstanding
Printed Material: High Quality
Audio Visuals: High Quality
Gala Program: Simply Outstanding
Marketing: Spot On!
Gala Emcee: Perfect for the occasion!
Feedback: ALL SMILES, PRIDE and SOME TEARS of JOY!
August 11 - Additional comment-
Evelyn King - I agree with Oren, the organization is full of characters, dedicated characters!

Rollin, the committee, your staff, and YOU did an absolutely amazing job in making the 50th Anniversary of OCCD a very special occasion. It was wonderful seeing so many familiar faces from the past, I wasn't sure how many would be able to make it, and was happy that so many could be there. Kathy, the program was great, thank you!
Congratulations to Ken on a most successful year as President, you truly helped grow OCCD into an even stronger organization. Best wishes to Kathy, the organization is so fortunate to FINALLY have you as President.
Thanks again for a most enjoyable celebration.
Blog Archive
Related Topics
« Back to Blog
Ohio Conference of Community Development Public Service Scholarship



The scholarship program was established by OCCD to honor two men who dedicated their careers to Public Service.

Like to make a donation?
Click Here
The Davis Bacon Training is postponed at this time.  We are working with the trainer to offer an online / interactive training in the near future.  We provide an update as soon as information is available.

Apr 21, 2020

Jul 29, 2020

Oct 28, 2020